AT&T gets the Samsung Focus 2: extremely affordable LTE Windows Phone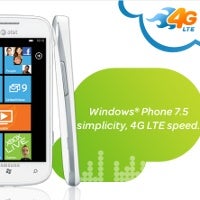 The
Samsung Focus 2
has just arrived on AT&T, and it's Windows Phone done in the Samsung way with a 4-inch WVGA Super AMOLED display and 4G LTE connectivity. Pair this with an affordable price tag of only $50 and a handful of rumors coming to reality (yep, that looks like the Samsung Mandel we've been seeing recently), the phone will definitely grab some hearts. The Focus 2 release date is set for May 20th, less than two weeks from now.
The Samsung Focus 2 gets the maximum processing power that Windows Phone supports now cand that's a 1.4GHz single-core processor. There are two cameras on the handset - a 5-megapixel rear one and a VGA front-facing shooter. It sports 8 gigs of internal memory.
The white paint job of the handset catches the eye. Dimension-wise it's above the average thickness with a 0.43-inch (10.98mm) thick body and it weighs 4.3 ounces.
The second-gen Focus is a successor to one of the most successful Windows Phone handsets launched with the arrival of Microsoft's platform, the original Focus, and it takes a direct jab at rival Nokia Lumia 900. The 4.3-inch Nokia Windows Phone offers similar features with a premium design, but the Focus 2 beats in affordability with its extremely affordable $50 on-contract price tag.
The WP-based Focus 2 comes as part of the upcoming CTIA expo, so stay tuned - there should be more phone action to come. But now, place all your focus on the gallery below for a detailed look at the Focus 2 and let us know, is that the new Windows Phone king at AT&T?
AT&T TO LAUNCH SAMSUNG FOCUS 2; OFFERS CUTTING-EDGE CAPABILITIES AT AN ATTRACTIVE PRICE
Samsung's First 4G LTE Windows Phone Offers AT&T Customers User-Friendly,
Affordable Windows Phone in a Slim, Stylish Design
DALLAS, May 7, 2012 -
Key Facts
* The Samsung Focus(r) 2, an affordable Windows(r) Phone on AT&T's 4G LTE
network, will be available from AT&T beginning May 20 in pure white for $49.99 with
a two-year service agreement.
* With the launch of the third Windows Phone smartphone on its 4G LTE
network, AT&T continues to offer customers the most robust Windows Phone portfolio
of any carrier.
* As Samsung's first 4G LTE Windows Phone, the Focus 2 is sleek and stylish.
Measuring 10.98mm thin and weighing only 4.3 ounces, it fits perfectly in your
hand, purse or pocket.
In April, AT&T launched the first 4G LTE Windows Phones in the world with the Focus
2 marking the carrier's third 4G LTE offering on this operating system. AT&T
customers have access to the nation's largest 4G network, covering over 260 million
people. As 4G LTE expands, AT&T customers are able to enjoy a widespread, ultra-fast
and consistent 4G experience on their compatible device as they move in and out of
LTE areas. AT&T has two 4G networks that work together for customers, LTE and HSPA+
with enhanced backhaul. With other carriers, when you travel outside of their LTE
coverage area, you're on a much slower 3G network.
Beginning May 20, customers can purchase the Focus 2, available in a glossy pure
white, from AT&T for $49.99 with a two-year contract.
Like AT&T's other new 4G LTE Windows Phones, the Samsung Focus 2 features the
Windows Phone 7.5 operating system which makes it easier to do everyday tasks
faster. Only Windows Phone has Live Tiles, providing real time updates on your
Start Screen including calendar appointments, emails or social media feeds. With
Bing Search built-in, you'll never be lost, as finding directions or a highly rated
restaurant nearby is quick and easy. Microsoft(r) Office Mobile and SkyDrive(r) also
allow you to create, save and access documents anywhere from the cloud to help
maintain productivity while on-the-go.
The Samsung Focus 2, the latest addition to the Focus family (following the Focus,
Focus Flash and Focus S), comes with a 4-inch Super AMOLED(tm) screen and
5-megapixel camera that makes taking pictures or shooting video in HD 720p a breeze.
The front-facing VGA camera provides the ability for video chat. Hands-free
messaging is available through speech-to-text and text-to-speech features that make
it easier to stay in touch safely while out and about.
"AT&T offers our customers the broadest Windows Phone portfolio of any carrier, with
three 4G LTE Windows Phones - the only 4G LTE Windows Phones in the U.S. - now at a
variety of price points and form factors," said Jeff Bradley, senior vice president,
Devices, AT&T Mobility. "The Samsung Focus 2 brings the people-first Windows Phone
interface together with AT&T's fast 4G LTE network for an unbeatable experience."
"Samsung is the unmatched leader in offering smartphones across a variety of
platforms and the Focus 2 is a powerful example of our continued commitment to
Windows Phone," said Dale Sohn, president of Samsung Mobile. "As our first 4G LTE
Windows Phone, the Focus 2 is a fast and versatile device for productivity,
entertainment and social networking."
For more information, customers can visit http://www.att.com/samsungfocus2 or
http://www.samsung.com/us/focus2.