Verizon's NFL app (finally) working on the Galaxy Nexus
3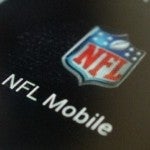 Good news for fans of (American) football: Verizon sniffed out the problem, and their NFL Mobile app now works on the Galaxy Nexus. The app, which has met with critical and popular success, was seen as a huge score in 2010 when
Verizon inked an agreement
with NFL Mobile to be the sole carrier of the app. The app has always been free, although initially you had to subscribe to Verizon's VCAST service to get streaming video.
This year Verizon one-upped themselves when that the NFL playoffs and Super Bowl would be
streamed live to NFL Mobile
equipped handsets (live video isn't available on tablets), but when the Galaxy Nexus shipped the app was not compatible with ICS devices.
With the imminent arrival of the NFL playoffs, football-loving Galaxy Nexus owners were getting nervous, especially after an update did not materialize on the
rumored target date of January 4th
. The meandering tale of NFL intrigue took another odd turn when the app was finally updated
but failed to work
on the Galaxy Nexus, despite explicitly stating that the update was to enable Ice Cream Sandwich devices.
Exasperated football fans can rejoice, as this morning the NFL Mobile app works on the Galaxy Nexus, without requiring an update. Apparently the problem was not with the app, but with the server authentication; Big Red must have caught and squashed the bug overnight.
Just in the nick of time Verizon, the wildcard round kicks off Saturday!
source:
Android Market
via
Android Central