NFL Mobile updated for ICS, still doesn't work on Galaxy Nexus
8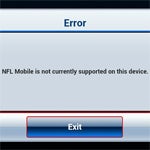 Verizon got everyone all riled up with excitement when it
announced that its customers could watch the Super Bowl through the NFL Mobile app
. When the Samsung Galaxy Nexus was finally released, early adopters were dishearten to find out the
app was not palatable on Ice Cream Sandwich
. Verizon was said to have an update out to fix this issue on January 4th.
Today Verizon released an update to make NFL Mobile compatible with Ice Cream Sandwich, unfortunately while it was nice that it was released a day early, Samsung Galaxy Nexus owners are reporting that the updated app still does not work on their devices. In short, thanks for nothing. Hopefully Verizon will be able to iron out the kinks shortly and get the NFL Mobile app up and running for Galaxy Nexus owners.
Have any of our Galaxy Nexus toting readers tried using the updated NFL Mobile app?
source:
Android Central