Verizon starts training for DROID 2
This article contains unofficial information.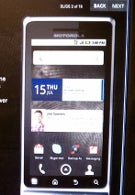 As you can see from the picture below, Verizon employees are beginning their computerized training to learn all about the Motorola DROID 2. That is a good sign that the launch of the device will be just 2 to 3 weeks away. The sequel to the hugely successful DROID will have some extra speed courtesy of a 1GHz TI processor, and will feature the same lite version of Motoblur seen on the DROID X. Both virtual and physical QWERTY keyboards are upgraded with the former version being the same multi-touch model seen on the DROID X. Speaking of typing, the Swype keyboard is pre-installed on the handset, which will launch running Android 2.2. Instead of the square look of the first-gen unit, the DROID 2 features a chrome bezel that adds some curves to the corners. In light of the $199.99 after rebate contract price that Big Red is asking for the DROID X, we would be very interested to see how Verizon prices the DROID 2.
Motorola DROID 2 Preliminary Specifications
source:
BGR