Verizon releases the Samsung Rogue U960 and Intensity U450
23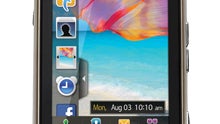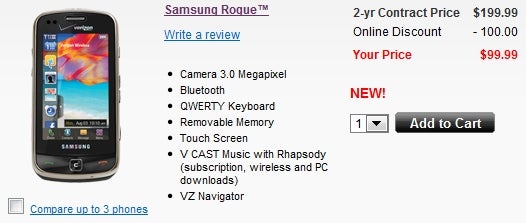 It was only a matter of time, and since we've now reached September 8th, Verizon has released both the Samsung Rogue U960 and Intensity U450. First off, the
Rogue
is the much anticipated replacement of the
Glyde
that came out last year. Instead of using a capacitive touchscreen, it is resistive, which should alleviate the
issues that the Glyde
suffered from. The Rogue also has the first
AMOLED display
to be used on a Verizon phone, so we're eager to try it out and see if it's as good as the one found on the
Omnia-II
smartphone. Other features of the Rogue U960 include a 3MP autofocus camera with LED flash, updated user interface, 4 row sliding QWERTY keyboard, HTML browser, EVDO Rev A, microSDHC memory card slot (16GB), Vcast Music/Video and VZ Navigator support. Pricing is $99.99 after a $100 rebate with a 2-year contract, $169.99 after rebate with a 1-year contract, and $419.99 full retail. Just remember that the Rogue is considered an
Enhanced Multimedia Phone
, so it requires an
add-on data package
(25MB for $9.99, 75MB for $19.99) on Basic and Select plans, or it can use unlimited data on Connect and Premium plans.
For those of you who like the idea of a side-sliding QWERTY keyboard, but aren't ready to take the touchscreen plunge, there's the
Intensity U450
. It comes in two colors (Flamingo Red and Grey) and offers a more traditional features, including a 176x220 pixel TFT display, 1.3MP camera, Mobile Web 2.0, microSDHC memory card slot (16GB), and supports VCast Music and VZ Navigator. But the device lacks EVDO, so data is limited to 1X speeds. Pricing however seems a bit odd, as the Flamingo Red model is showing FREE after $79.99 rebate on a 2-year contract, while the Grey model is $29.99 after a $50 rebate with a 2-year contract. However, both are $99.99 after $50 rebate with a 1-year contract, and $199.99 full retail.
source: Verizon Wireless
Rogue
and
Intensity in Flamingo Red
and
Grey