More information about Verizon's new Enhanced Multimedia Phone Data Plans
67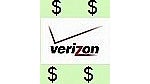 Last week we brought you
exclusive information
regarding Verizon's initiative to require data plans for the upcoming
Samsung Rogue U960
. Today BGR has confirmed this with some new leaked documents showing more details about the data plans. First off, the only (new) phone that will require this currently will be the Samsung Rogue, as all other phones (
enV Touch
,
Dare
,
Versa
, etc.) will be grandfathered in. Verizon's new classification category will be called "
Enhanced Multimedia Phone
" and will be a dumb-phone (not a smartphone) that has an HTML Browser, EVDO Rev A, QWERTY keyboard (either physical or on-screen), and launches after September 8th. Since the Rogue meets these 4 requirements, here are your options. You can activate the device on either a Nationwide Basic or Select Plan, but are required to also purchase a 25MB data plan for $9.99/month or a 75MB data plan for $19.99/month. If you go over the amount of data included in those, you then pay 50 cents/MB (over 25MB) or 30 cents/MB (over 75MB). Verizon also has created a page that shows what the prices will be for Nationwide Select Plan customers, and how that "for one penny more" they can get a Nationwide Connect or Premium Plan, both of witch have unlimited data usage. Because of these new changes, the $15 VCast VPack will no longer be offered (only grandfathered in) and will be replaced with a $10 VCast Video On Demand package. The only difference here is that the VCast Video On Demand will not include unlimited MB data, like the VPack did. One thing to keep in mind, when the
LG Chocolate Touch VX8575
is released later this year, chances are it will also be in the same data category as the Rogue.
source:
BGR
So how do you feel about all this? Are you still planing on buying the Rogue and Chocolate Touch, or are the data requirements making you walk away? Let us know in the comment section below.