Verizon, AT&T, Sprint and T-Mobile will all have a BlackBerry 10 device
32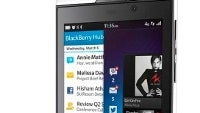 With that lengthy preparation for the launch, you'd expect BlackBerry to have all its cards stacked for the BlackBerry 10 roll-out, but it turns out that the devices will be delayed and only come in mid-March in the United States. And that applies to the Z10, the full QWERTY Q10 is expected to launch later, in April.
BlackBerry chief executive blamed long testing periods for the delay, but which exact carriers will have the upcoming all-touch BlackBerry Z10 and full QWERTY BlackBerry Q10?
First,
Verizon Wireless
has announced it will stock both the BlackBerry Z10 and Q10, with the flagship Z10 arriving at a price of $199 on a two-year contract. Moreover, the white version of the Z10 will be a Verizon exclusive in the United States. Both devices will come with 4G LTE connectivity.
The nation's second largest carrier,
AT&T
, will also have both the BlackBerry Z10 and Q10, also running on its 4G LTE network.
Sprint
on the other hand will only sport the BlackBerry Q10
"later this year."
Sprint hasn't really revealed much else saying that "additional details, including pricing, will be shared closer to availability" in a press release. We also don't know whether that device will support Sprint's 4G LTE network, but we'd guess that it would.
And now
T-Mobile
has also confirmed that it will carry the BlackBerry Z10, and moreover - it will be
T-Mobile's first 4G LTE device
. The carrier also has a sign-up page that will notify you when pre-orders become available.
And here are the details about the
global
launch of BB10:
In the UK, the BlackBerry Z10 will come on EE, O2, Vodafone, Phones 4u, BT, 3UK and the Carphone Warehouse.
In Canada, the Z10 will launch on February 5th. Price will be $149.99 on a 3-year contract.
In the UAE, the BlackBerry Z10 will arrive on February 10th.
source:
BlackBerry