Verizon expands its 5G coverage map with new cities, for a total of 15
1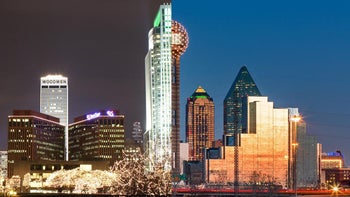 Verizon is rolling out its 5G wireless service in more cities, sending us a press release that pegs the birthplace of those Omaha steaks, and the hometown of those Cowboys as the next two in line.
The inclusion of Omaha and Dallas brings the total number of Verizon's 5G metro areas to 15 cities, adding to the Chicago, Minneapolis, Denver, Providence, St. Paul, Atlanta, Detroit, Indianapolis, Washington, DC, Phoenix, Boise, Panama City, and New York City coverage.
In Dallas, the carrier's 5G Ultra Wideband service will be concentrated in parts of the following areas: Knox/Henderson, Downtown Dallas, Uptown, Medical Center Area, Deep Ellum; and around such landmarks as Parkland Memorial Hospital, Children's Medical Center, Jade Waters Pool, Dallas Comedy House, The Curtain Club, Dallas Theological Seminary and Turtle Creek Park.
In Omaha, the 5G blanket is thrown over parts in the center like the Old Market, Omaha Children's Museum, The Orpheum Theatre, The Durham Museum, Heartland of America Park, Central High School and Creighton University.
Customers in Dallas and Omaha become the latest to experience the super-fast download speeds delivered by our 5G Ultra Wideband service. We're focused on building 5G right in order to enable unique experiences for our customers.
That's the promise of Kyle Malady, Verizon's chief technology officer, and if you are somewhere downtown Dallas or Omaha, in a possession of a
5G Note 10+
or another next-gen phone, let us know what your download speeds show. They keep telling us 5G is more than that, but for now that's the only tangible benefit.