Verbatim keyboard for iPad/iPhone is shipping to retailers
1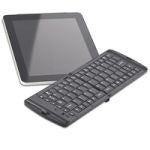 This is for you, road-warriors and space-conscious students: Verbatim is now shipping their new Wireless Bluetooth Mobile Keyboard for the
Apple
iPad and iPhone. The slim, sleek, and foldable keyboard will give you the intuitive comfort of a
full keyboard
, without taking up the valuable space in your bag.
The mobile keyboard includes a leather carrying case, to keep it safe, even at the bottom of your backpack. There is also a pop-out stand for your
iPhone
, which can be stored within the keyboard for protection. Verbatim's keyboard runs on 2 AAA batteries, which are also included. The inclusion of standard batteries means longer life on a single set, but a rechargeable battery option would be nice.
Perhaps the best features of the keyboard are the shortcut keys. From these shortcuts, you can control your iTunes, just like you might on a desktop keyboard. With this kind of ergonomic and compact keyboard, you just might find yourself writing papers and emails on your Apple device from now on.
You can purchase the Verbatim Wireless Bluetooth Mobile Keyboard for US$79.99 from Amazon.com and Fry's Electronics, as well as other major retailers in the near future.
source:
Verbatim
via
AVING