Get a physical QWERTY for your iPad
2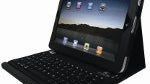 An iPad case called
"WKB-2000CB"
offers you a physical QWERTY for your Apple device. Produced by
Adesso
and dubbed the
Compagno
, this wireless Bluetooth keyboard can be removed from the iPad case in order to do a job for each of your Bluetooth-enabled gadgets, including your smartphone(s).
Adesso claims that because of the silicon material used in the Compagno, the keyboard is silent, easy to clean and waterproof. It has a working range of 30 feet (or 10 meters) and according to its creators, it can endure up to 40 hours of continuous use. Its physical specifications are:
Keyboard dimension: 9.25 x 5.25 x 0.30" (235 x 133 x 7 mm)
Case dimension: 7.50 x 9.75 x 0.75" (193 x 248 x 18mm)
Weight (Keyboard and Case): 1.00 Lb (454g)
If you want to buy the Compagno, click the Adesso link below. It costs $79.99 and if you are searching for an iPad-compatible wireless Bluetooth keyboard, probably this is your deal.
source:
Adesso
via
SlashGear