Vantage Calendar is a new, darker and Star Wars titles-inspired take on phone calendars
1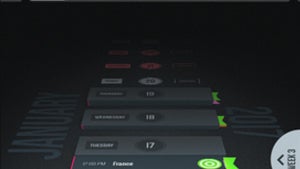 Most calendar apps these days get the basics right: they have got you covered whether you prefer a view of your day, week, or month, some come with useful color codes and graphics, and most can also add custom repeat for events and have some sort of language recognition.
But they are also pretty much all the same. And if you want something new and different that still gets the basics right, you now have that option with Vantage Calendar.
This new iOS calendar app features a very different look: it comes with a default dark theme that looks like nothing else on the market, and it features the standard overviews of your events, but on top of that it has a very neat, Star Wars title-like schedule that will allow you to look through your events easily.
It also comes with stickers and color codes, and it's a free download. There is a one-time in-app purchase that you can make to unlock custom repeats for the app, but that is it. We don't guarantee that this will become your daily driver, but we do know that it's got a different style that some people will appreciate. Check it out right below.