Valentine's Day edition of Angry Birds is next up on the menu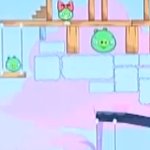 Can't get enough of those wonderfully created Angry Birds as they continue their ongoing feud? Well, you're in luck if you managed to get through both the Halloween and Christmas editions of Angry Birds since another is rightfully on its way.
From the looks of it, a
Valentine's Day edition
of Angry Birds is slated to be released which will introduce a
special pink addition
to the family of characters. Luckily, things are on track for a
February 14th Valentine's Day release
which should prove to be a worthy gift for your significant other. However, it's uncertain right now if both iPhone and Android versions of the game will be released at the same time.
via
SlashGear