Useful file managers for iPhone and iPad
4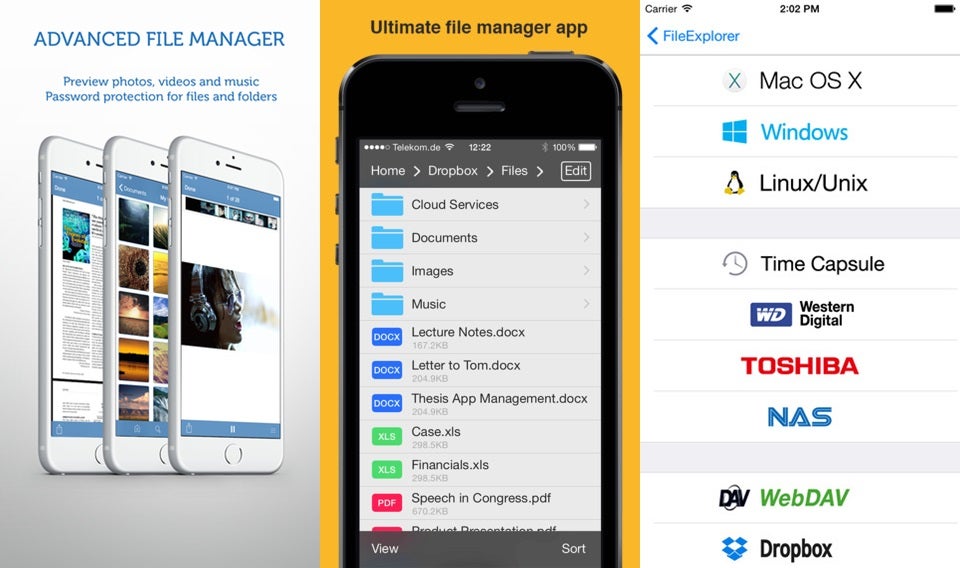 Managing your files on an iOS device - be it an iPhone or an iPad - can be a challenging task, especially given the fact that unlike Android, Apple's platform is a walled garden when it comes to program files.
Apple has adopted a simple solution: it simply does not allow users to tinker with them, so that they don't break something.
However, if you still want some control over a limited number of files, such as your captured images or downloaded books for example, you can manage them in folders easily with the help of a file manager. You can also use this crop of new file managers to take control over your cloud storage and easily copy and paste from the cloud to a device, as well as manage folders and files in the cloud.
For those purposes, we recommend you use one of the apps below, our favorite file managers for iPhone and iPad.
Documents 5 by Readdle
Price: Free
The most popular file manager for iPhone and iPad is without a doubt Documents 5 by Readdle, a free app that allows you to search through your photos and other files. You can also manage files (duh): copy, move, rename, star favorites, as well as compress files to zip archives. It also connects to your iCloud Drive to show you files from there, and with extensions (available as in-app purchases), you can add support for third-party cloud solutions.
FileBrowser by Stratospherix
Price: $5.99
A costly file manager, FileBrowser by Stratospherix is very rich in functionality, and - along with the traditional file management options - you get to access and control files on a remote computer via this app. FileBrowser can view, copy, move, upload, download, stream, and manage files between computers, servers, NAS drives and cloud storage in any direction without the need to install additional software.
USB Disk Pro by Imesart
Price: $4.99
USB Disk Pro is an iPad file manager with a built-in viewer capability and some neat power user features. It's nice to have drag and drop functionality for files in iTunes for easy to iPad as well.
File Manager by LTD DevelSoftware
Price: Free ($3.99 in-app purchase for Pro version)
This free file manager focuses on connecting you to the vast majority of popular cloud services and allows you to easily manage files between your iOS device/s and your cloud storage. Supported services include GoogleDrive, Dropbox, Box, OneDrive, Yandex.Disk, and network services like FTP, SFTP, SMB, WebDAV, DLNA, photo galleries and files on your device. The app can also handle archives of different formats: Zip, Rar, 7z, tar, gz, bz2.
File Manager App by Zuhanden GmbH
Price: $2.99
One of the more affordable solutions, the File Manager App still covers most functionality users will require from a file manager app: you can copy, move and rename files, create folders, as well as zip and unzip documents. There are also built-in file viewers for documents from the following formats: Powerpoint slideshows, Excel spreadsheets, Word documents, images, audio, video and zip files.
FileExplorer by Steven Zhang
Price: $4.99
Last, but not least we have the excellent FileExplorer by Steven Zhang, an app that covers all four key areas for an iOS file manager: it gives you access to remote computers, file servers, and NAS; provides an interface for cloud storage; gives you access to your own local storage; and finally, comes with built-in file readers for common image and video formats. As a bonus, you get a PDF and a document reader.