Update to Google Calendar allows you to enter an event faster using "Smart Suggestions"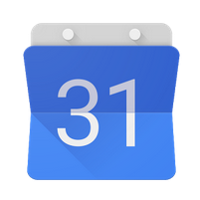 Google is in the process of updating the Google Calendar app for both Android and iOS. Being added to the app is "Smart Suggestions." With this feature, once you start typing to create a new event, you will see matching suggestions. You can pick from one of the suggestions, or keep typing. If you type "at," you can add an address to the event, and later get directions.
Type "with" when creating the event so that you can add people to it. While this doesn't send invitations to the people you list, it will be easier to call or message them from the event. When you tap "on," you can leave the date of the event, the time it starts, and the duration. Google also has made it a snap to delete entries. Simply go to the overflow menu, open it, and click on delete.
Google also said that more than 30 languages support the new feature. There are also 54 new calendars available that are country-specific. Overall, 143 such calendars are offered by the app. You can access them by going to
Settings
->
Holidays.


If you already have the Google Calendar app installed on your iOS or Android phone, you should see the update hit your phone shortly. To install the app, click on the appropriate link below.
Install Google Calendar (
iOS
|
Android
)
Thanks for the tip!
source:
Google
via
TalkAndroid