Update to BBM will allow users to share pictures in multi-person chats
6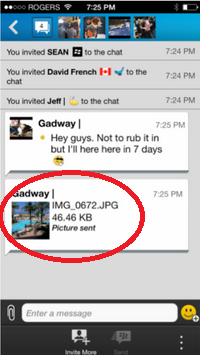 BBM users will soon get to share pictures during multi-person chats
The messaging apps are where the money is for now, and with BBM all of a sudden getting a lot of attention inside and outside BlackBerry, the Canadian manufacturer is doing what it can to spruce it up. BlackBerry itself just stated in a blog post that it will be offering new features and improvements to BBM "
on a regular basis
." Recently,
BlackBerry added stickers to a beta version of BBM
. These are what are being called larger and more beautiful images compared to emoticons, and must be purchased in the new BBM store, which is also part of the beta version of the app.
BlackBerry has announced that the next update to BBM will allow users to share pictures with others during a multi-person chat. The company said that it received a lot of requests for this particular feature. Currently, BBM users in the middle of a multi-person chat can share voice notes, their location using Glympse and send files from the clouds via Dropbox.
The next update will also increase the size of a file shared during a BBM multi-person chat from 6MB to 16MB. While currently a BBM user on a multi-person chat can share 6 seconds of 1080p video recorded on the
BlackBerry Z30
, after the update that same user will be able to share 16 seconds of that same video. And after listening to feedback from users, the next update will also bring slightly larger emoticons. So far, there is no hint from BlackBerry as to when the next BBM update will be pushed out.
BBM, as we've already told you, is coming this summer to Windows Phone and
will be available out of the box on some Windows Phone models along with the Nokia X models
.
"With millions of you depending on BBM to connect with your most important contacts, we want to provide the best messaging experience possible. So, we're taking your feedback and we're trying to knock it out of the park by bringing new features and improvements to BBM on a regular basis."
-BlackBerry
source:
BlackBerry
via
Engadget