Expected update to fix camera issues on the OnePlus 7 Pro is rolling out now
4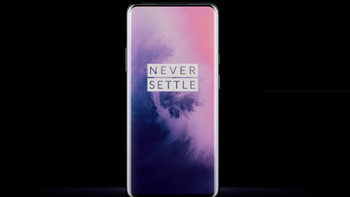 A few days ago we told you that a OnePlus staff member put up a post on the company's community forum alerting
OnePlus 7 Pro
users
of an impending update for the rear camera system
. With some users complaining about the quality of the images produced by the phone, the update is designed to improve the photographs taken with the triple camera setup on the OnePlus 7 Pro. The update also enhances the HDR setting and Nightscape; the latter is used to produce a viewable photograph without sufficient lighting, similar to the Night Sight feature found on the Google Pixel handsets. The former stitches together different exposures captured with a single press of the shutter. This produces photos with a greater range of contrast and color.
According to OnePlus, this update is now rolling out to certain variants of the OnePlus 7 Pro. OxygenOS versions 9.5.4 and 9.5.5 are being disseminated to those toting the international and EU models, respectively. As the company notes, while both updates are exactly the same, Google is now requiring that the EU region receive their very own version of it. As promised, the update delivers improvements to the image quality in "HDR scenarios" and in low light. Also fixed are issues with white balance and fixed focus.
"Thanks for the overwhelming amount of feedback we received both positive and constructive from users of the OnePlus 7 Pro's triple camera, both from within the media and our own community. OnePlus is committed to building products for and with our users. We value your voice!"-OnePlus
The update, which weighs in at 182MB, also optimizes the Double Tap to Wake and Ambient Display features. The former is self-explanatory. The latter uses AI to automatically set screen brightness at the level users have shown a preference for. Another issue fixed was one that causes an audio delay when using Bluetooth while playing a mobile game. And of course, the update contains the usual general bug fixes and improvements.
If you're a OnePlus 7 Pro owner, be on the lookout for this update. In the U.S., the device is a T-Mobile exclusive although it is reportedly certified for use on Verizon. The phone carries three cameras on back (48MP primary + 8MP telephoto with 2.2x optical zoom+ 16MP Ultra-wide). It also features a pop-up 16MP selfie snapper.