Unlocked GSM-flavored Samsung Galaxy Nexus is priced modestly at $559.99 outright
6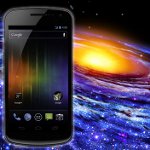 Verizon customers are right now able to accept that shellingout $299.99 with a contract will indeed give them the best of the best in theAndroid landscape, but for those tied down with a GSM carrier in the US, theyhave to look at something else to get their fix. Well, there are no moreworries for them, seeing that they can obtain the highly prized Ice CreamSandwich powered device too!
Although it's not made available in contract form yet in theUS, those consumers calling any of the domestic GSM providers their provider ofchoice can now pick up the Samsung Galaxy Nexus at a reasonable price. At$559.99 outright through dailysteals.com, it might still seem too rich for somepeople to purchase, but considering that the handset normally carriers a$749.99 price point, the 25 percent reduction it's sporting is seemingly betterthan nothing,
Making the purchase even better, this GSM-flavored SamsungGalaxy Nexus is actually an unlocked model – so you can expect to have itworking on nearly any provider. As for shipping, it's merely another $4.99 outof your pockets, which brings its total cost of ownership at $564.98.
Thanks Cody!
source: dailysteals