Unidentified small-screen Xiaomi handset spotted prior to the Mi 5s' announcement
2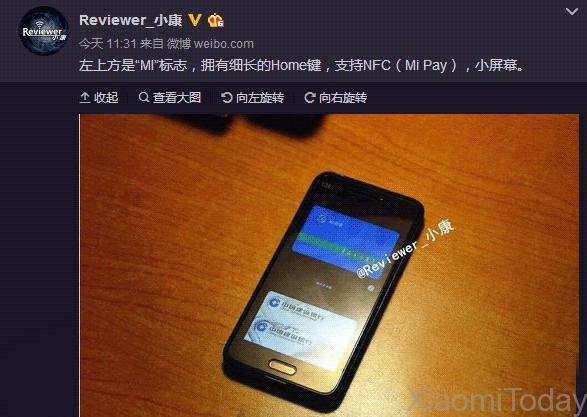 As Chinese brand Xiaomi is preparing to launch its upgraded Mi 5s flagship smartphone on September 27, a photographer spotted a previously unannounced small-screen smartphone that carries the Mi logo and features a familiar design language – such as the flattened Home button.
There's no intel on this handset and what it could turn out to be – perhaps it's a Mini version of the Mi 5/5s, or an all-new model designed for budget or small screen phone buyers. It is possible, though, that we will learn more about it at the coming September 27 event – unless Xiaomi wants the spotlight solely for the Mi 5s.
Speaking of companion devices, Xiaomi is also expected to showcase the Xiaomi Mi 5s Plus, a bigger version of an already imposing smartphone. The Mi 5s is said to have a 5.5-inch, 1080p resolution screen and is powered by the Qualcomm Snapdragon 821 processor together with no less than 6GB of RAM memory.
It's also supposed to debut Qualcomm's
sonic fingerprint scanning technology
, which lets the scanner be embedded under surfaces such as glass and plastic. In this case, the scanner is said to be embedded under the display's glass cover, which is supposed to make using it all the more convenient.
We'll learn more about Xiaomi's new smartphone line-up next week. We expect more leaks until then, which will tell us other aspects of the devices' story.

ALSO READ