US Cellular rolls out Android 5.1.1 OTA for the Galaxy S6 and Galaxy S6 edge
13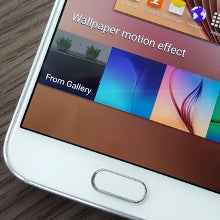 As we reported yesterday, Android 5.1.1 Lollipop has begun to
make its way
to the International
Samsung Galaxy S6
and
S6 edge
. Now, US Cellular has joined the party, and so if you happen to own either of the S6 duo on this carrier, you can officially snap up the latest flavor of Google's mobile software.
As noted on the US Cellular website, the update will drag your device up to Android version 5.1.1, baseband G920R4TYU2BOF7. You can, if you prefer, update through Samsung Kies by connecting your device to a computer. But the OTA is rolling out for those who'd like to update through
Settings -> About Device -> Software Update.
If you do take the over-the-air route, you will need to be connected to Wi-Fi in order to process the update. You'll also, naturally, require a Google account in order to proceed, and since the update is several hundred megabytes in size, you'll need a decent amount of spare storage space to get going.
US Cellular hasn't released a change log for the updates as yet, but of you do take the plunge through this carrier, let us know of any noteworthy features, flaws, or general impressions via the comments.