UK Telecom Regulator summons RIM executives to discuss underage viewing of porn on BlackBerry phones
11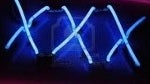 A problem in the telecommunications industry in the UK is so serious that the office of the regulator, Ofcom, has
summoned RIM officials to a summit with UK carriers
to discuss a glitch with BlackBerry handsets. The problem? The ability of underage UK youngsters to view porn on their BlackBerry phone. According to the regulator's office, "
It was brought to our attention that there was a problem, It is to do with the way in which the BlackBerry operating system works. We are very concerned and want to get this resolved as quickly as possible
."
The problem is that mobile carriers
can block pornography
to the Apple iPhone and other handsets like Android flavored models because the data that is received and sent by these phones first goes through the carrier before reaching the handset. But with BlackBerry models, data goes through RIM's servers first, which doesn't give the carriers the opportunity to block porn.
It is basically the same situation that forced certain countries like Saudi Arabia to
threaten to turn off BlackBerry phones in the country
last year as there was no way for the country to spy on email sent and received on BlackBerry models. When countries wanted to spy on non BlackBerry email traffic (for security reason, of course), they would get the content of messages from the carrier. But with BlackBerry phones, the carrier doesn't get the messages as they go from RIM's servers straight to BlackBerry phones. Recently,
Indonesia said that it would ban BlackBerry service
in the country if it couldn't spy on email messages to and from the phones. According to
Crackberry
, RIM
had already offered a solution to the porn problem
but only one carrier in the UK took them up on it and that was T-Mobile.
The underage porn viewing on BlackBerry has helped RIM's smartphones become popular among the youth of the UK. A large number of the 8 million UK BlackBerry users
are under 18
. For RIM, it is just another battle to be fought in what has been a very rough year for the Canadian based manufacturer.
source:
UKTelegraph
via
Crackberry