Two RIM executives caught drunk on an airplane, disrupt flight to China
14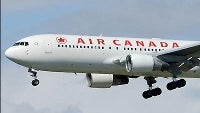 How many executives do you need to disrupt a flight? Turns out the answer is two, if measured in RIM executives. The latest publc relations fail from the Canadian company includes
drunk executives on an Air Canada flight 31
headed to Beijing.
George Campbell and Paul Alexander Wilson were charged with mischief yesterday and pleaded guilty. The two got so drunk, they wouldn't obey flight crew and the pilot was reportedly forced to stop the flight from Toronto and head back to Vancouver just after crossing the Alaskan border.
Each of them was fined $35,878 and ordered to not contact Air Canada or fly with the company during their one-year probation. RIM issued a statement saying:
"Based on the limited information available at this time, RIM has suspended the individuals involved pending further investigation."
While that was the funny part of the story, the sad part is that 314 passengers had to land in Vancouver and wait overnight in a hotel for another 18 hours for the plane to continue its journey to China. One of the passengers says that the two were even fighting with the flight attendants, so the crew was forced to choose security and ground the plane.
Thanks, ardent1!