Two Facebook-centric Android phones to be created by INQ and the social networking giant
2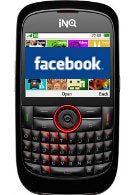 Facebook's plans for world domination won't leave it a passerby in the smartphone industry. The social networking behemoth was rumored for a while to have mobile plans of its own, and now it looks like it will be taking the path of least resistance to realize them.
Sources say that Facebook is working on two Android devices together with INQ, which will offer a deeply integrated Facebook experience. That's one touchscreen-only phone, and one with a physical keyboard, coming to Europe next year, and possibly appearing on AT&T as well. The carrier is still mulling the option to sell the Facebook/INQ handsets for under $100 on contract in July or August of 2011, the sources add.
INQ was the first to call one of its handsets a "Facebook phone", with the
INQ¹
early last year, and it also wanted to out a
"Twitter phone" on the market
. With the follow-up
INQ Chat 3G
and
Mini 3G
, the company showed that its entire concept is built with social networking in mind. Add to that the fact that INQ was
intending long ago
to switch to Android for its phones, and the puzzle pieces fall into place
We will leave it for the accountants to calculate, but with INQ and Android as the weapons of choice, Facebook obviously wants its entry in the smartphone business to cost next to nothing. No official from the company has confirmed the rumors, there is only a statement that it has worked closely with INQ before, in order to smooth out the Facebook integration in the manufacturer's handsets. What will these phones offer different than any regular social networking application for Android, remains to be unveiled.
Would you buy an INQ Android phone if it has Facebook plastered all over it?
INQ INQ1 Specifications
source:
Bloomberg