Twitter testing breaking news push notifications
1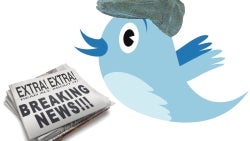 Back in April, Twitter decided that
News
is a far better category for its mobile apps, than
Social Media
and transitioned both the Android and iOS apps to that category. It appears that the company is ready to experiment with its new category, as it's now testing push notifications for breaking news.
A lot of users reported getting a push notification on their iOS device. No reports have come from Android users, though, so we're not sure if this is an iOS-exclusive test or not.
According to Mashable, a Twitter spokesperson confirmed yesterday that the alerts are a part of an ongoing trial. It is unknown when the trial started, but according to unconfirmed reports, it was months ago. The alerts appear to be targeted towards different groups of people, based on Twitter's evaluation of your interests. Some of the previous topics that got their own push notifications were the US election, the Olympics and
"The Bachelorette"
on ABC.
Apparently I'm getting push alerts from Twitter now? pic.twitter.com/XyQsifaTuZ

— Abby D. Phillip (@abbydphillip) December 19, 2016
Upon opening the notification, users will be taken to relevant Twitter Moments – curated content from across Twitter, focused on a single hot topic.
We don't know if and when this trial will be making its way to more users. Considering it's just a test, it might not play out as well as Twitter hope, so completely scrapping it is also an option.
via
Mashable