Twitter is beta testing an automatic night mode feature for Android users
2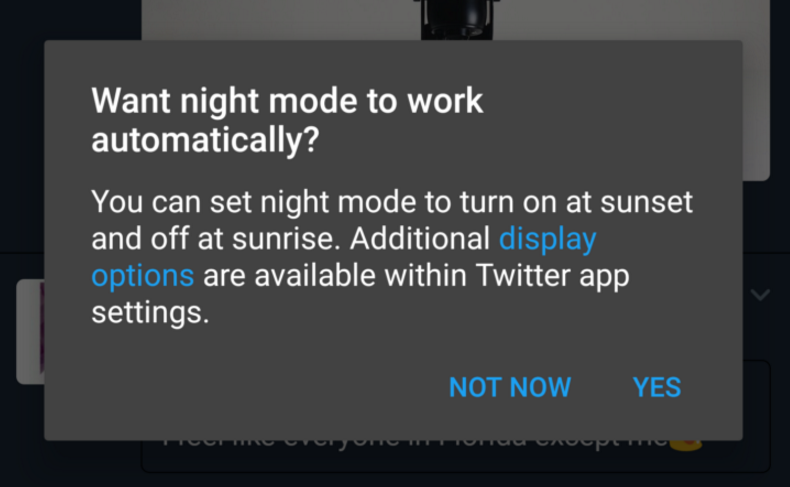 Twitter is beta testing an automatic night mode feature for Android users
Twitter's night mode allows users to write and read tweets in the dark without getting blinded by the bright white background that makes looking at the screen uncomfortable. Instead of black text on a white background, switching over to night mode reverses those hues, so users are looking at white print on a black background. The result is a screen that is more comfortable for eyes to stare at during the night, or when the lights are out.
While turning on night mode is currently an option that each Twitter user has, a screenshot shows that Twitter is prepping an automatic night mode feature that will give Twitter users (at least those on Android) three options instead of the current "on" and "off." The new choice is "automatic" which would turn night mode on at sunrise, and off at sunset without any input from the Twitter subscriber.
Right now, beta testers will probably find the the updated night mode options. Eventually, a server-side update will push the changes through to Android users. If you have an Android handset, you can try to sideload the APK from APKMirror. Or, you can patiently wait for this to appear on your Twitter app.
Download the APK from APKMirror by clicking
here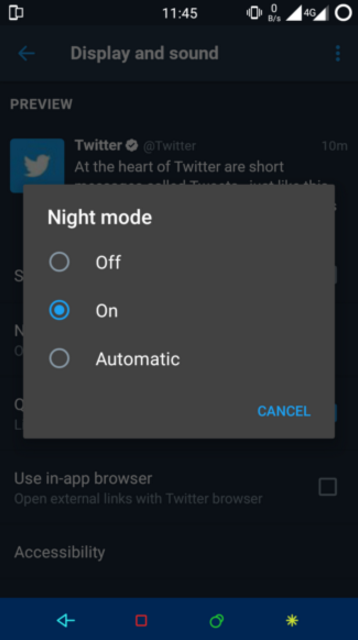 Automatic night mode turns the feature on automatically at sunset, and off at sunrise
Automatic night mode is being tested for the Android version of Twitter
source:
AndroidPolice