Twitter adds new filtering tool for Direct Messages requests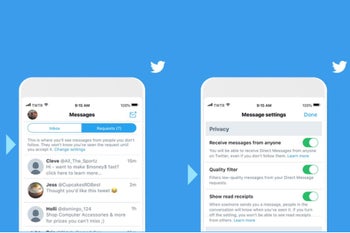 Twitter
announced that a new feature is now available for those who receive lots of Direct Messages and don't have time to reply to all. To be more precise, a new filtering tool has been added, which makes it easier to filter Requests.
If you didn't know, Direct Messages is split into two sections – Inbox and Requests. The former features all Direct Messages that you receive from Twitter accounts that you already follow, while the latter has all Direct Messages that you get from Twitter accounts that you don't follow.
According to Twitter, "
by default
" the
Twitter for iOS
and Android app filters lower-quality requests from the Requests section. Whenever you enable this option, the quality filter for message requests will hide conversation requests that Twitter believes it may be of lower quality.
These conversation requests will not send you any notifications and you will not be able to see them in the Requests section of your inbox. However, if you disable the quality filter, all the hidden conversations will be viewable, even the older ones, in the Requests section in addition to new, incoming requests.
Basically, Twitter says that it made Requests easier to follow making all those lower quality message requests "invisible." The problem is you usually want to see ALL messages, and in particular, those tagged by Twitter as "lower-quality."