Twitter acquires tech firm Smyte to help it smite bullies, spammers and abusers
0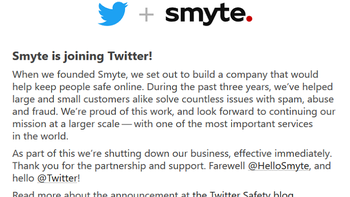 As Twitter subscribers know, navigating the app lately is like walking through a minefield-blindfolded. It also is full of mud-slinging bullies ready to pounce on those that don't have the same beliefs as they have. It is a shame considering that the platform can be extremely useful as a source for breaking news. Twitter also allows celebrities and the guy/gal on the street to communicate with each other.
In an effort to rid itself of the bad elements that have permeated the platform, Twitter announced today that it has purchased Smyte for an undisclosed amount. Smyte is an online security firm that can identify cyberbullying, hate speech, trolling and other behavior that Twitter would like to drive from the app.
Smyte will monitor Twitter and will report BOTS, abusers, bullies, scammers, trolls and your garden variety bad actors. With this service in place, those in charge of policing Twitter will be able to take proactive actions to stop abusive behavior before it has an impact on Twitter members' experiences using the app. While Twitter will continue to be the home to divisive political, uh, discussions, anyone crossing the line (wherever that will be drawn) could risk getting their account suspended or end up banned.
"Smyte's products will help us address challenges in safety, spam and security more quickly and effectively. Their review tools and processes will be powerful additions to our own tools and technology that help us keep Twitter safe. We'll integrate this technology to strengthen our systems and operations in the coming months."-Twitter
It will be interesting to see where Twitter does draw the line considering that some of the name calling and bullying comes from accounts belonging to high profile users. One particular Twitter member likes to bully those that do not agree with him by linking an unflattering word with his target's first name; if Twitter is serious about cleaning up the app, it cannot turn a blind eye to this type of behavior. After all, the company talks about keeping conversations on Twitter "healthy." Bullying is not healthy.