Turn your selfie into a public display of balloon art thanks to Old Navy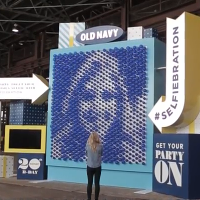 Here's something that you don't see everyday. Old Navy will place its giant Selfiebration machine in Times Square (starting on October 22nd) and in the Hollywood & Highland Center in L.A. (October 25th). What is a Selfiebration machine? Glad you asked. It is a 15 foot high display made up of close to 1000 balloons. The balloons inflate to various sizes, and can create an image taken from a picture, using just the balloons.
Sending a picture via a tweet to hashtag #Selfiebration will result in having the photo put up on the Selfiebration board. The machine will cycle through the pictures every 30 seconds, and the fully inflated image stays on the screen for only 10 seconds. But if your selfie is used, Old Navy will send you a GIF showing the Selfiebration machine creating the image of your photo.
But there is more to this than seeing your image created out of balloons. From today through October 25th, add your birthday wish to the tweet in honor of Old Navy's 20th birthday, and you can win your wish in the form of a check from Old Navy. Sounds like it might be in your best interest to dream big.
source:
OldNavy