Tumblr rolls out sleeker, redesigned app for iOS
1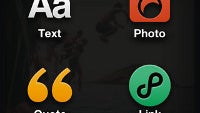 Tumblr
has finally rolled out an update to its iOS bringing contemporary looks and plenty of new features, just after it launched a similar update to its Android app. Tumblr version 3.0.0 for iOS sports a new dashboard, supports high-res images and comes with a brand new image viewer that also allows you to watch cached images offline.
Tumblr chief executive David Karp says that this is a "completely rebuilt app that's better in every possible way."
Basically, this is a needed update for the Tumblr app which now features more contemporary features with support for swiping gestures like a swipe on the left for a new post and a swipe while in post bringing the camera.
The support for high-res pictures is more than welcome on devices like the iPad with its stunning 2048x1536-pixel display, but we still would wish the image-centric blog would introduce a separate tablet app to truly shine on the iPad. For now, though, this update will certainly do.