Tumblr integration comes to BlackBerry Hub
2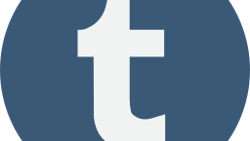 The BlackBerry Hub+ Services app is where you will find some of those BlackBerry apps that you want to have on your non-BlackBerry Android powered handset, including BlackBerry Hub. The app has received an update that handles 'bug fixes and performance improvements,' and also includes Tumblr integration for BlackBerry Hub. You can check 'My apps & games' in the Google Play Store to see whether or not you have received the update for BlackBerry Hub+ Services.
BlackBerry Hub is a unified in-box that allows users to consolidate all of their messages in one place. And if you buy into the old saying that a picture is worth a thousand words, why couldn't Tumblr be considered another messaging app? And in case you're wondering, Verizon is the current owner of Tumblr.
Yahoo purchased it
in May, 2013 as part of then Yahoo CEO Marissa Mayer's plan to focus Yahoo on mobile. Then, in July of 2016,
Verizon purchased Yahoo giving Big Red control of the photo sharing app
and website.
Not including Tumblr, the latest count shows that BlackBerry Hub integrates with the following Android messaging apps:
Twitter
Facebook
Facebook Messenger
LinkedIn
Whatsapp
BBM
Instagram
Pinterest
Slack
Skype
Skype for Business
Viber
WeChat
Line
Kik
Telegram
Hangouts
Signal
BBM Enterprise
QQ
TextNow
Facebook lite
Messenger lite

With Tumblr, there are 24 Android messaging apps that integrate with BlackBerry Hub. If you use multiple messaging apps, BlackBerry Hub helps sort it out for you since you know that all your new messages can be found in the unified in-box along with your email. Instead of having to open all of the email and messaging apps you use to see your latest messages from family, friends and work, all you need to read is your BlackBerry Hub inbox. What a great time saver this could be for you.

BlackBerry Hub+ Services includes BlackBerry Hub, BlackBerry Calendar and BlackBerry Password Keeper. To install on your Android phone, click on the sourcelink.
source: BlackBerryHub+Services via CrackBerry