Trade in your working smartwatch or fitness tracker and get up to $250 off the Microsoft Band 2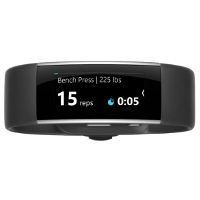 The Microsoft Band 2 is a
fitness tracker
/smartwatch that will monitor your exercise, track your heart rate and the quality of your sleep. The wearable can even compute the number of calories that you burned while walking around the block. And when paired with an Android, iOS or Windows Phone, it can notify you to calls, emails and texts. Synced to a Windows Phone, the Microsoft Band 2 will integrate with virtual personal assistant Cortana. The Microsoft Band 2 is certainly a versatile device. It can even track your golf swing and make you a better performer on the links.
Microsoft currently has a promotion running through February 7th. Trade in a working smartwatch or fitness tracker, and get as much as $250 off the price of the Microsoft Band 2. The highest trade in value, $250. is reserved for the 38mm
Apple Watch
with a stainless steel case and a Milanese loop. A 42mm Apple Watch with a stainless steel case in White will knock $200 off the price of the Microsoft Band 2. Certain Fitbit fitness trackers will be good for a $75 credit toward the wearable, and trading in the OG Microsoft Band can get you as much as $35 off the price of the new model.
Click on the sourcelink link to see a representative list of smartwatches and fitness trackers that you can trade-in toward the purchase of the Microsoft Band 2, which is priced at $249.99. That means Microsoft will send you the device for free if you give them that aforementioned 38mm stainless steel Apple Watch with a Milanese loop. Does that sound like a deal that you would take?
Get up to $250 in credit toward a Microsoft Band 2 by trading in a working smartwatch or fitness band
source:
Microsoft
via
Microsoft-News
,
WMPoweruser