Touch Pro to land on Sprint in October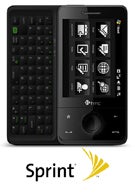 Almost a month to the day after the
Diamond's release
, it's business brother is scheduled to land on the nation's #3 carrier. The Touch Pro is nearly
identical
to the Diamond, but doubles the ROM and adds a slide-out QWERTY keyboard along with 4mm in thickness. Like Victor, Herman appears to be just a code name and the device will indeed be known at the Touch Pro.
As reported
, the Pro will not have internal memory but will offer microSDHC expansion. Other features include a
3.2
megapixel camera, Wi-Fi and the same 2.8' VGA screen found on the Diamond, along with a 528MHz processor. The Pro will cost $329.99 after all contract discounts, full retail pricing will set you back $579.99.
Sprint has five other devices slated to launch on 10/19 including the LG Lotus, also known as the LX-600, which will be a high-end, oddly shaped QWERTY device. Samsung has the M540 Rant and M630 Highnote ready to go, the latter of which is said to be a high-end music slider and the former
may
be a QWERTY messaging device. Look for the Lotus and Highnote to run $129.99 on contract, while the Rant will be $49.99. Motorola is prepping a pair of iDEN units, the rugged i576 and fashionable i776. The EX720 aircard will launch as a refresh on the same day and the
Centro
will get rose and green makeovers, bumping its color palate to five.
Lotus image courtsey of Engadget Mobile
,
i576 BGR and i776 courtsey of UberGizmo