Top 7 best cases for the OnePlus 3T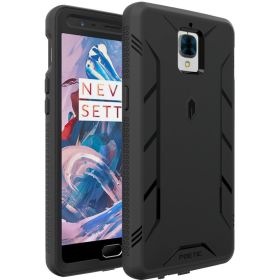 If you're looking for the best
OnePlus 3T
cases that you can purchase in the US, this is the case roundup you should be reading.
Following a series of leaks and teasers, the OnePlus 3T finally became official this past week. While the handset provides a great bang for your buck, chances are that future OnePlus 3T owners will still want to get a case to protect their investment by equipping it with a case. We did some digging around and we're now about to discuss what we perceive as the best OnePlus 3T cases.
Now, since the OnePlus 3T has the same physical body as its predecessor, these cases will also work for the original
OnePlus 3
.
Official OnePlus 3T Cases
When it comes to high-end smartphones, manufacturer cases are usually overpriced compared to third-party alternatives. Fortunately, this is not the case with the official OnePlus 3T cases.
OnePlus sells the 3T 'Protective Case' in six variants: Karbon, Black Apricot, Sandstone, Ebony Wood, Rosewood, and Bamboo. Most of these are kevlar-reinforced and only weigh 12 grams. The sandstone version, a finish that debuted on the back cover of the OnePlus One, is made out of PC and tips the scales at 18 grams.
OtterBox Sleek and Slim
Looking for more protection for the 3T than what the manufacturer's own cases have to offer? If so, OtterBox - one of the best case manufacturers out there - has a OnePlus 3T case that's right up your alley!

The OtterBox OnePlus 3T case comes with a hard PC back cover and a shock-absorbing inner sleeve that absorbs shockwaves before reaching your precious handset. Three color options are available: Black, Gold Sierra, and Nightfire.

Poetic Revolution
The Poetic Revolution case - a very popular option on Amazon - is the OnePlus 3T case we're going to recommend for those who plan to take their OnePlus 3T anywhere near a sea, ocean, lake, or beach. No, this rugged case will not make your OnePlus 3T float, but it is the only case on this list to provide protection against water and dust, a feature that's made possible by the flaps that cover all of the phone's ports.
Dust-proofing and water protection aside, Poetic Revolution cases also offer strong protection against accidental drops through their three construction layers. Aside from the hard PC shell and the soft TPU sleeve, a common build theme for smartphone cases, this one also comes with a built-in
screen protector
. Another nice touch is the inclusion of a grippy texture on the sides of the phone.
Spigen Rugged Armor
Those looking to protect the OnePlus 3T while keeping the bulk to the minimum should check out Spigen's Rugged Armor case for the OnePlus 3T.
This one comes with a single layer of protection, a flexible TPU material. However, thanks to the manufacturer's Air-Cushion technology, your phone will be well-protected against the accidental drop.
Oeago

Shock-Absorbing OnePlus 3T Case
If you're looking for enhanced protection on a budget, check out the Oeago Shock-Proof OnePlus 3T case. Priced at $7.88, this case comes with two construction layers, a hard PC shell and a flexible rubber silicone layer on the inside, a combo that should ensure that your OnePlus 3T can survive an accidental meeting with the pavement. Furthermore, the case also comes with a dotted texture on the back that not only looks good but will also help with the grip.
Spigen Ultra Hybrid
If you really love the design of the OnePlus 3T and want to let it shine through while still protecting your phone, a clear case is the way to go. You can find a ton of cheap clear cases on Amazon but our recommendation is to go for a high-quality one, such as the Spigen Ultra Hybrid.
Although it doesn't look like it, the back of the case is actually made out of polycarbonate. Add the TPU bumper into the equation and Spigen's Ultra Hybrid case provides better protection than any cheap clear TPU case.
Tauri Wallet Leather Case
Moving on to another popular build material, we'll point
leather case
fans to the Tauri Wallet Leather Case. Now, if you've been following our case roundups, then you already know that this is one of our favorite leather wallet cases.
The Tauri Wallet Leather Case for the OnePlus 3T is made out of genuine leather with a smooth finish applied. The display cover comes with a few slots where you can store cards, cash, or IDs, a convenient feature for when you don't want to carry both your wallet and your smartphone with you. Another thing to like about this case is the fact that it can be folded to sustain the handset at an angle in landscape position, effectively acting like a kickstand. A magnetic leather clip keeps the wallet closed.