Today's surprise Google Play deal is a Grinch
4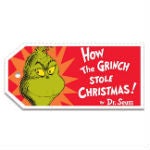 Today is day five of Google's countdown to the New Year, and of course that means another deal from the Google Play Store. We've seen a pretty wide variety of deals already, from apps to music to books, and today brings us back to the apps section (although it's a bit odd because it's an app of a book.) Today's deal will get you "How the Grinch Stole Christmas!" for just 99 cents.
Just to be clear, this is the app version of Dr. Seuss' Christmas classic, not an ebook, but that's better anyway, because that means you get the extra features like the read along, plus some word games and more.
And, the developer behind the Dr. Seuss apps, Oceanhouse Media, has decided to go beyond Google's surprise deal and put all Dr. Seuss apps on sale this week for between 40-80% off. So you can also get "The Cat in the Hat" or "The Lorax" for just 99 cents as well.