To get upgraded to LTE, your Motorola XOOM must be returned to the factory
11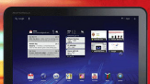 Leaked internal information reveals that upgrading the Motorola XOOM from 3G to LTE is not a simple matter of walking into your local Verizon store and waiting for the upgrade. Instead, owners of the Honeycomb flavored tablet will have to send the device to a Motorola factory approximately 90 days after today's launch of the Motorola XOOM. The process of updating the tablet will take 6 business days.
Other information in the leaked material shows that shipping and handling will be entirely free and the upgrade will be available for a 6 month period from the time that LTE becomes available on the tablet. Verizon reps are being told to sell the 4G experience for the Motorola XOOM by telling customers that 4G will increase the speed of the device by 10 times while songs will be downloaded in seconds and movies in minutes.
Verizon is telling customers to head to
www.verizonwireless.com/Xoom4GLTEUpgrade
and enter their email address so that they can be notified when the 4G upgrade will be available for their tablet.
source:
Verizon
via
Droid-Life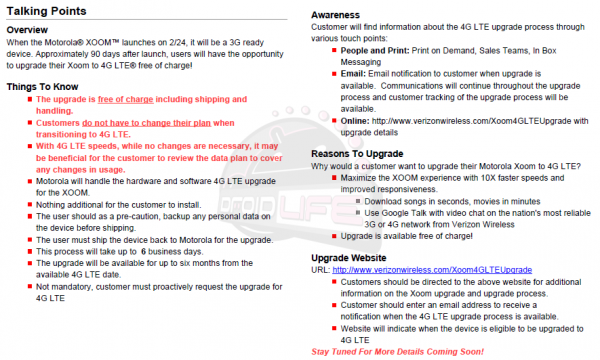 To upgrade your Motorola XOOM to 4G, you will have to send your unit back to the factory; the process takes 6 business days