Tinder U is launched; feature is designed to match college students on campus or at nearby schools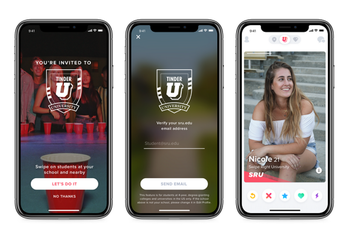 Tinder, the dating app that has users swipe to the right when interested in a particular person, and swipe left if they are not interested, announced a new feature today called Tinder U. Designed to help college students on the same campus find a date, a friend, or even someone to study with, Tinder U will also find matches from nearby schools, too.

For many freshman, the first year of college is the hardest, especially for those who have traveled far from home and are without their friends and families. This is why Tinder U is actually a great idea. To sign up for the feature, Tinder says that there are only three steps to take:
Once you're on campus, log in to Tinder and give us your .edu email address.
Then check your email and tap the verification button.
Now you're in Tinder U! Swipe, match, and message as usual—you know the curriculum—it's Tinder 101.
Tinder U is initially being offered on iOS devices at 4-year, accredited, not-for-profit schools in the U.S. These colleges must have physical facilities and classrooms where teachers interact with students face-to-face. Sorry University of Phoenix students, those taking classes online are not eligible to sign up for Tinder U.

"Get ready for the best semester of your life. Tinder U is a new feature that makes it easier to connect with other students around you - putting their profiles first as you swipe. Need a study buddy? Not a problem. Coffee date on the quad? We've got you covered. Freshman year and you don't know a soul? This is your ticket to the coolest crowd on campus. Let's face it—it doesn't get any classier than this."-Tinder
The feature is rolling out now, just in time for the start of a new school year.
source: Tinder