Tim Cook said to have met with Samsung execs to discuss patents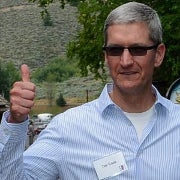 We know what you're thinking - this legal conflict between Apple and Samsung is never going to end. Although you might be right, we really hope that both parties will be able to settle their differences soon and get back to innovating their line-ups.
What leads us to this thought is the news that Judge Lucy Koh has ordered Apple's and Samsung's executives to meet and discuss the possibility of meditation.
According to The Korea Times, this meeting has already happened between Apple's Tim Cook and Samsung's
Choi Gee-sung and Shin Jong-kyun
on July 16. Unfortunately, it isn't known if the execs have reached any consensus. However, the source does mention that people familiar with the matter claim that Samsung still views Apple as a valuable business partner.
Business partners or not, patent lawsuits have long become part of the daily grind for both Cupertino and Seoul. The U.S. trial between Apple and Samsung is set to begin on July 30, so let's hope it'll be quickly resolved thanks to that precursory high-level meeting.
via:
SlashGear