Those Angry Birds are soon flying over to Windows Phone 7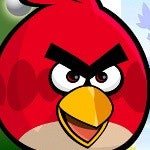 After reports broke of an April 6 launch of the game Angry Birds on Windows Phone 7, Microsoft denied and then clarified by stating that Angry Birds, as well as some other popular titles, will launch one week at a time this spring.
Angry Birds is one of the most popular games that ever became available for mobile platforms and has been downloaded millions of times on mobile operating systems such as iOS and Android. In fact, its popularity has reached so high that there is a spin-off movie in the works as well as a collection of Angry Birds t-shirts.
Windows Phone 7 is not the only mobile OS lacking the Angry Birds love, but it appears to be next in line to get it. Although the reported April 6 launch turned out to be incorrect, spring is only around the corner. Also finding their way to WP7 this spring are other well-known games such as Plants vs. Zombies and Sonic the Hedgehog. Tell us what you think in the comments below.
source:
Mobile Crunch