This week's free phones for Best Buy Mobile's Free Phone Friday are now public
4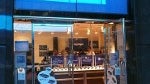 Every Friday this month, Best Buy Mobile has given away a quartet of current, top-of-the-line handsets. The retailer is offering a handset for free, one from each of the top four U.S. carriers, to those who are willing to sign a new 2 year contract to extend their current service. If you can't make it to the store, you can also take advantage of this promotion using the Best Buy Mobile web site.
This Friday, the four free phones are the Samsung Fascinate (Verizon), BlackBerry Bold 9700 (AT&T, T-Mobile) and the Sanyo Zio (Sprint). For those who want to order their free device wearing a robe, the Best Buy Mobile web site can be found by clicking on this
link
.
Next Friday will be the last one for this promotion and we would love to see the retailer raise the stakes a little for the last week. How about offering the Motorola DROID X, the Apple iPhone 4, the Samsung Epic 4G and a pre-order of the HTC HD7. Are you listening to us, Best Buy Mobile?
source:
BGR