This iPhone 6 concept ignores iOS 8, uses iOS 9 instead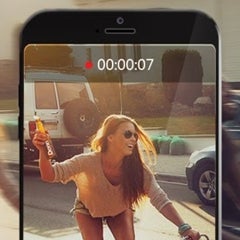 Fresh
iPhone 6
concept designs seem to pop up almost daily, but not all of them are realistic, or worthy of mention. However, we spotted a new iPhone 6 concept that's interesting, not just because it's well made, but also because, instead of using
iOS 8
, it comes with iOS 9 - which, of course, hasn't been announced.
Created by Georgian designer Giorgi Tedoradze, this iPhone 6 concept is 6.8mm thin, and features a 4.7 inch display with 840 x 1,436 pixels, quad-core 1.6GHz processor, 10MP rear camera with OIS, and a 2,450 mAh battery. As for iOS 9, this supposedly helps iPhone fans who may not be used to large smartphone screens, offering a "passive part" at the top of the display, and an "active part" on the rest of the screen (for accessing all the apps). Other than tat, though, we're not really seeing any differences between this imagined iOS 9 and the current version of the platform.
Concept designs aside, the real iPhone 6 may
look like this
(and, yes, the new concept certainly resembles that). Obviously, we can't be sure of anything just yet, as some reports have it that the new iPhone may even
sport a curved screen
.
We're expecting Apple to announce its next-generation smartphone (or smartphones, because a 5.5-inch model seems to be in the cards, too)
in September
. Until then, let us know if you like the iPhone 6 concept seen below, and the iOS 9 idea that it proposes.
iPhone 6 concept with iOS 9
source:
Tedoradze