This Samsung Galaxy F (S5 Premium) concept looks almost real
99+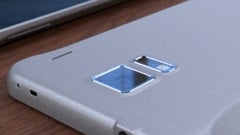 Although rumors had it that Samsung would introduce two different
Galaxy S5
smartphones - including a premium model made of metal - the South Korean company announced only a regular S5 at MWC 2014 last month. Still, a metal-clad Galaxy S5 might be introduced by Samsung later this year.
Not long after the announcement of the
regular Galaxy S5
, we heard that its premium version
would arrive in May
. Naturally, this should be more expensive than the S5 that we'll be able to buy starting April 11, and it might have significantly different specs - like a Quad HD (1440 x 2560 pixels) display.
While we can't know exactly what Samsung has in store for us, we discovered a Samsung Galaxy F concept that tries to paint a pretty realistic picture on what the rumored S5 Premium could be. The concept was made by Ivo Marić, and adds a metal case to the S5 that we already know. There is also a dedicated camera button. Check out the concept below and let us know if you think it looks better than the real S5.