This Otterbox battery case for the Apple iPhone 6 will double your battery life
2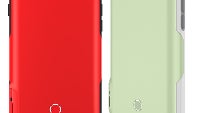 We've not counted them one by one, but we are sure that from all devices released in the last 6 months, the Apple iPhone 6 is probably the device with the largest and most extensive portfolio of cases and accessories. We've often updated you with all the new cases and accessories for the new iPhone 6, including some of the
notable extended battery cases for the iOS machine
. We have a new entrant in this particular segment and it's made by no one else than Otterbox itself, one of the fairly popular accessory manufacturers.
The Otterbox Resurgence is a new case with an embedded 2,650mAh battery that makes sure your device won't die that easily. Apart from keeping the lights on, the Resurgence also provides military-grade protection thanks to its fiberglass shell and foam-covered insides to act as a "cushion" against unwanted rendezvous with the ground.
Otterbox does not say when the Resurgence will hit the shelves, but we are at least treated to its price tag – if you want to treat your iPhone 6 to this battery case, you'd have to part with $99.99 of your hard-earned money. The case will be available in black, red, green, and grey.