The upcoming Asus ZenWatch 3 will feature a circular display
4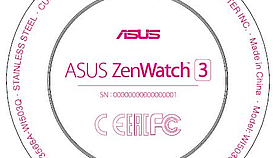 Asus, which was one of the first tech companies to jump onboard the Android Wear train, is apparently getting ready to unveil its first smartwatch with a circular display. How do know this? No, no magic ball involved in this prediction. Instead, Ausdroid has recently spotted the Asus ZenWatch 3 making the rounds in the FCC database.

Both the original Asus ZenWatch and the ZenWatch 2 adopted a square form factor with rounded edges that made the two wearables look a lot like pebbles. With the upcoming ZenWatch 3, however, it looks like Asus is planning to launch its first smartwatch with a round display.

Unfortunately, the FCC filing doesn't mention too many details about the ZenWatch 3. The official documents reveal that the display will be circular, that the wearable will be made out of stainless steel, and that it will use a 5V – 2A charger. Like its two predecessors, the ZenWatch 3 will likely be charged by direct input, and not through wireless charging like most modern smartwatches.
On the connectivity side, the third-generation ZenWatch will come with Bluetooth 4.2 and Wi-Fi 802.11 b/g/n (2.4GHz).

Although the first Android Wear smartwatches were all square-shaped, most of the new smart wrist pieces have adopted the round form factor. The Samsung Gear S2, the Motorola Moto 360, and the LG G Watch Urbane all come with circular screens. One notable exception to this trend is the Apple Watch, which features a rectangular display.
Since
Android Wear 2.0
has been around for a few months now, chances are very good that this is what the ZenWatch 3 will run on. It also makes sense from a UI design perspective, seeing that Android Wear 2.0 introduced a new circular UI that caters specifically to smartwatches with rounded displays.

With IFA 2016 scheduled to start early next month in Berlin, we wouldn't bet against the ZenWatch 3 being announced there, and we'll be bringing you hands-on details about it if that turns out to be the case.

What do you guys think, is Asus doing the right thing by riding the circular smartwatch trend?