The iPhone 5 'static lines' keyboard glitch is a software issue, to be patched with the next iOS 6 update
46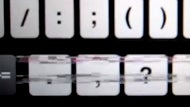 With some iPhone 5 units, on screens where you have to enter your Apple ID, a few fuzzy things appear, which might frighten you at first, considering the static lines look like the display is about to give up the ghost.
Apparently the problem is software-related, nothing to do with the in-cell touch display, as it mostly appears in certain situation where Apple now separates the keyboard pop-up window from the app it is running in, like during the above-mentioned Apple ID input. It has, however, also been appearing in app icons and individual letters.
There has allegedly already been a customer complaint reply from Apple's service, saying that the issue will be fixed with the next update: "
…Apple is aware of the issue & that they're working on it. It will be patched in an upcoming iOS update. It's confirmed to be a software issue. Why it only happens on some devices, she didn't have details. The bottom line is that they're working on it now & we will have a solution.
"
Have you experienced the "static lines" on-screen keyboard software glitch with your iPhone 5 unit?