The White House is testing Samsung and LG Android phones to replace BlackBerry
66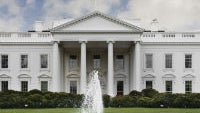 It seems like 80% of the news that we get about BlackBerry these days is bad news for the company, while the other 20% is the current CEO talking about plans to save the company. This story falls into the former category, because one of the most high-profile clients on the BlackBerry roster, the White House, is considering ditching the platform for Android.
The Wall Street Journal
is reporting that Android devices by Samsung and LG are in the early stages of testing, though a formal switch away from BlackBerry could still be months away. A Department of Defense spokesman confirmed that the White House "is piloting and using a variety of mobile devices", though another person close to the situation said that Apple's iPhone is not part of the testing plan. So, the White House may be testing "a variety of mobile devices", but it seems to be testing just one mobile platform: Android. Both Samsung and BlackBerry commented, but said nothing noteworthy concerning the rumor.
Of course, it should be noted that there is absolutely no indication that President Obama will be giving up his BlackBerry. The President has said in the past that he would prefer to use his iPhone, but that doesn't seem to be in the cards. Still, a switch from a modified BlackBerry 7 device to a more modern Android device would likely be a welcome change for the so-called "tech president".