The SlimType cover turns your Samsung Galaxy S6 or S6 edge into a QWERTY smartphone
39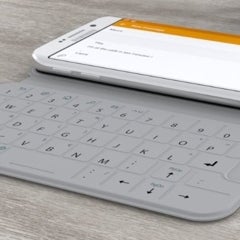 If you own a
Samsung Galaxy S6
, or a
Galaxy S6 edge
, and you'd love to be able to use a hardware QWERTY keyboard with it, a Norwegian company called One2Touch seems to have what you need: the SlimType cover.
SlimType is presented as "the first smartphone cover with an integrated portable keyboard powered with NFC." Since we haven't heard of any other similar smartphone cover, it looks like this accessory is, indeed, the first of its kind.
Featuring a comfortable textile surface, the SlimType cover pairs with your Galaxy S6 via NFC (you'll have to download a dedicated app from Google Play to actually use it). The QWERTY keyboard includes various hotkeys for fast access to email, calendar, contacts, and Web applications. Presumably, the SlimType keyboard will help you reply faster to emails and text messages, in addition to taking notes faster. Since we haven't tested it yet, for now we can't say how fast or user friendly this accessory is.
At the moment, there's no word on exactly when the SlimType cover will be released. However, you can reserve it via its official website (see the first source link at the end of this article). For a limited time, at launch, the SlimType cover will cost $39, being available in three color variants: White Pearl, Black Sapphire, and Cherry Red.
Mind you, the SlimType cover is not compatible with the
Galaxy S6 edge+
(the S6
edge+
has its own Samsung-made
Keyboard Cover
anyway, though this offers a portrait QWERTY keyboard, not a landscape one).
Wold you buy a keyboard cover like SlimType for your smartphone? Let us know in the comments section.
The One2Touch SlimType cover for Samsung Galaxy S6 and S6 edge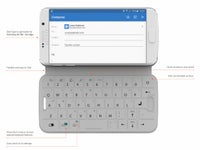 sources:
SlimType
,
Amazon
,
Press release