The Samsung Convoy 2 is the latest rugged cellphone in Verizon's portfolio
15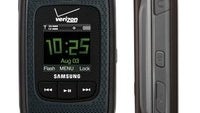 Looking for a phone that can withstand a lot more abuse than an average handset would ever be subjected to? In that case, Verizon might have exactly what you need.
The Samsung Convoy 2 has just been added to Big Red's portfolio
and is the carrier's latest military-grade offering. It is resistant to shock, dust, sand, solar radiation, salt fog, humidity, extreme temperatures and probably even cooties. Being as rugged as it is, the Samsung Convoy 2 is the perfect cellphone for those leading an adventurous lifestyle or simply suffering from a bad case of butter fingers.
As the case is with most tough devices, however,
the Convoy 2 does not offer much in terms of hardware specs
. It features a 2.2-inch main display with QVGA resolution and a secondary external screen for notifications. A 3.2-megapixel camera with flash is also on board, as well as Bluetooth connectivity, GPS, and push-to-talk functionality. Still, the device is 3G-enabled, boasts an HTML browser – Opera Mini, to be more precise, and comes with Facebook, Twitter and MySpace clients out of the box.
The Samsung Convoy 2 will set you back $80 after you put your signature on a 2-year contract. Those who are interested in getting one can either order it from Verizon's online store today, or wait for a few weeks until the phone makes it to the carrier's outlets nationwide.
source: Verizon Wireless