The OnePlus 7 Pro is too big
99+
This article may contain personal views and opinion from the author.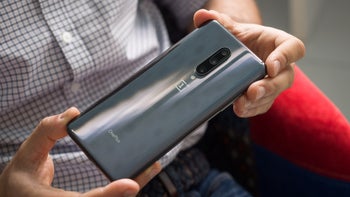 I have been using OnePlus phones since the very first one and the new OnePlus 7 Pro that I have just reviewed has been an amazing ride. With a fabulous display, probably the fastest performance of any phone, and the best implementation of portrait mode that I have seen, this is clearly the most impressive phone that OnePlus has ever made.
Yet as much as I love this phone, I will be returning it: it is just too big!
To be perfectly precise, the OnePlus 7 Pro is not just big, it's taller than pretty much any mainstream phone currently in existence. I don't care about the exact measurements, but when your phone does not fit in your jeans pockets without sticking out, you know things have gone out of control and a bit too far.
At 7.27 ounces, or close to half a pound, the 7 Pro is also surprisingly heavy.
And... you guessed it right: it's much thicker than all previous OnePlus phones. It's just one big and bulky device.
With the help of our size comparison tool, you can see how each year OnePlus phones have just grown larger and larger to reach the enormous proportions of the new OnePlus 7 Pro:
The Evolution of OnePlus Phone Sizes
Looking at these images I keep on wondering what will be next: a OnePlus 8 with the size of a tablet?
For other phone makers like Samsung and Apple having such large phones is not a problem. If you don't like the big phone, you can get a smaller version of the same device! For the iPhone XS Max, you have the XS. For the Galaxy S10+, you have the smaller S10 and also the really compact S10e. It becomes a problem in the case of a company like OnePlus that makes just one phone and it goes towards an extremely large size without providing a smaller counterpart.
To help you better understand the huge gap between the new OnePlus 7 Pro and the currently available
compact
flagships, we turn to our size comparison tool again...
OnePlus 7 Pro vs Compact 2019 Flagships
The phone market has proven time and time again that people love big phones, but it has also shown that you can go overboard (remember the failed
Nexus 6
?) and that there is a limit to big, and by going to the extreme as OnePlus has done here, with no smaller alternative, it risks alienating users who prefer a mid-sized device that actually fits properly in your pockets.
This is also disappointing for me personally: the speed that you get from this phone and the carefully optimized Android experience is something that you just don't get on other, non-OnePlus phones, and I would have loved to have all of that OnePlus experience in a smaller device that I could use more comfortably.