The HTC Leo is the HD2 - now confirmed by a leaked product catalogue of О2
This article contains unofficial information.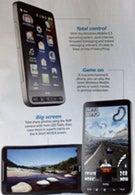 Information
that appeared six days ago had it the HTC Leo was coming to UK on 12 October through O2. Engadget now reports the release will be help up on until 26 October, but we do hope this is false... because, we can wait get our hands on one of these smoking hot handsets. Aside from the news, a page from the product catalogue of the carrier has been leaked on the Internet and the information on it confirms
the latest rumours about the name of the phone
- the HTC Leo will actually hit the shelves going under a different name, the HTC HD2. It is interesting to note that the picture does not show the TouchFLO 3D interface, but the standard Windows Mobile 6.5 main menu. We, however, highly doubt it that the high-tech handset manufactured by HTC will come without the proprietary interface of the company, since it is a most distinguishing feature of all HTC-made smartphones running Windows Mobile.
HTC HD2 Preliminary Specifications
source:
Engadget