HTC HD2 (AKA Leo) set for October 12th UK Launch on O2?
This article contains unofficial information.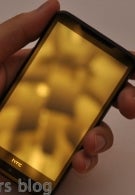 Whether you call it the HTC HD2, Leo, or the Pro Three, the extremely hot Windows Mobile handset appears close to a UK launch. Engadget reports that a tipster who has proven himself in the past told them that the handset is listed on an O2 intranet site. Under the title of "future products", the HD2 is listed with a launch date of October 12th. The information didn't reveal any idea on pricing. While the numerous pictures and videos of the phone with its 4.3 inch hi-res screen have whet the appetite of U.S. cellphone buyers, the original Touch HD never found a carrier in the States. If it's your birthday, wishing for this handset to find a U.S. home would be a great wish to make as you're blowing out the candles.
HTC Leo Preliminary Specifications
source:
EngadgetMobile