Samsung Galaxy Note 10+ scores a crazy discount on eBay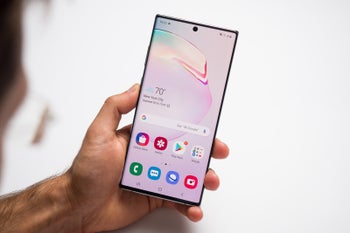 The best thing about Samsung releasing new phones is that the old ones usually drop in price. The Samsung
Galaxy Note 10+
, one of the hottest phones of 2019, has recently just done that, with an eBay deal slashing one-third off the normal price.
Samsung's Note 10+ was easily one of the most premium phones of yesteryear, with a price point to match—$1100, to be exact. Now, the phone is just $699 from a reputable eBay seller, making the top-tier flagship more accessible than ever.
The Samsung
Galaxy Note 10
+ features a gorgeous, 6.8" AMOLED display with a center hole-punch selfie camera, all set in a slim and sleek glass/aluminum design. Along with a whopping 12GB of RAM and a powerful Snapdragon 855 chipset, this phone is more than ready to tackle the new decade.
If that's not enough to convince you, then the excellent triple-camera setup, great battery life, and signature S-Pen certainly will. If big, powerful phones are your cup of tea, you could hardly do better than the Galaxy Note 10+.
The phone is sold brand new in the 256GB storage variant, and the popular Aura Glow coloring is sure to turn heads. $400 off a recent flagship is certainly an excellent deal by any measure, so be sure to take a look if you're in the market for an upgrade.